Shake Awake Mini Red Dot Reflex Sights Holographic CT2 for Glock 22 MOS RMR Cut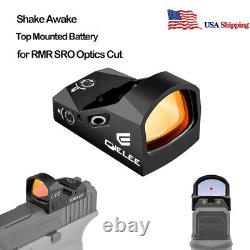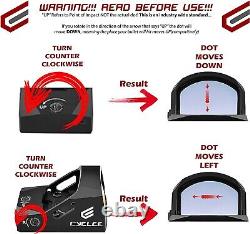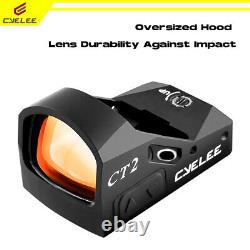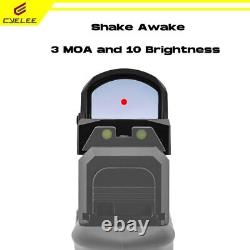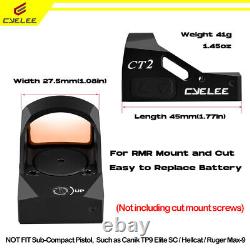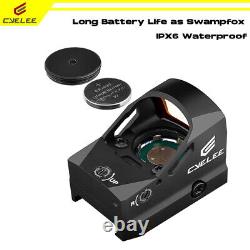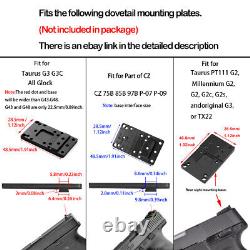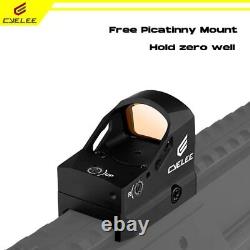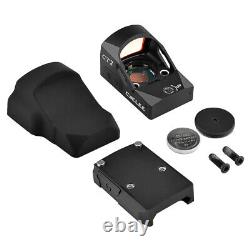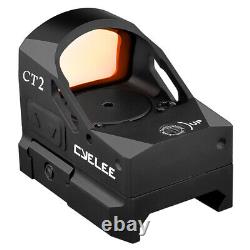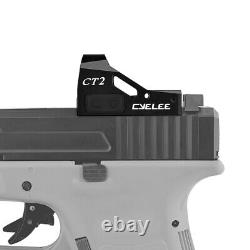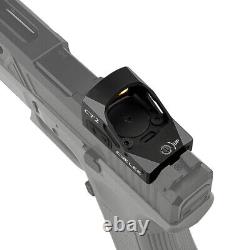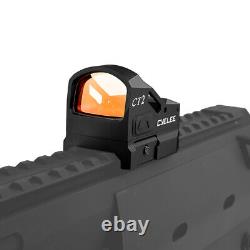 NOTE: We are currently unable to deliver to APO Army/Air Force Post Office, FPO Fleet Post Office, DPO Diplomatic Post Office. NOTE: Mount plate length: 48.8mm/1.9inch. For Taurus PT111 G2, Millennium G2, G2, G2c, G2s, andoriginal G3, or TX22. For All Glock Taurus G3 G3C.
For CZ 75B 85B 97B P-07 P-09. Shake Awake RMR Cut Red Dot Sight. The Cyelee CT2 red dot targets the marker leaders in reliability without emptying your wallet. Class-leading value starts with multi-platform versatility, utilizing the RMR mounting pattern it has a daylight bright 3 MOA dot, with 8 daytime settings, and a top-loaded battery that doesn't require removal from your slide or mount.
The CT2 has up to 50,000 hours of battery life, and comes with an included optional weaver-style low-rise mount. Mounts directly onto Glock MOS RMR mounting plates, or directly onto any other RMR footprint cut compatible slide. Made specifically to fit mounts or slides cut for RMR/SRO or Holosun 407C/507C/508T products. The CT2 will NOT fit guns using the RMSc(407k/507k) footprint, including the Canik TP9 Elite or SC/Hellcat/Ruger Max-9. Defective items or those broken due to manufacturing defects will be replaced promptly.
Please ask for help via Amazon or our website as shown on your products box and manual. Instead of a dot I see a splashed dot, half-moon shape, starburst etc.
You may have astigmatism that you are not aware of. Please check that other light sources and brightly lit objects aren't being smeared on your camera before determining if the dot is clean or smeared. For those with astigmatism please consider trying green dots, they do not always help but many with astigmatism give feedback that they can help. All product and company names are trademarks or registered trademarks of their respective owners. Their use does not imply affiliation or endorsement by these companies.
All product names, logos, brands and other trademarks or images shown or mentioned are the property of the respective brand owners. MDS Stands for Motion Deactivated Standby, Cyelee Optics products will NEVER have an automatic shut-off, they can ONLY be shut off by manually holding the down/- button for 4 seconds. When shut-off only MANUAL button presses/holds can turn the optic on.
However while ON the optic is always checking if it needs to go into MDS Mode. Walking with, or even heavy footsteps near your optic, will keep your optic awake, however, if it senses no movement for 5-7 minutes it will enter MDS Mode, when it senses motion in MDS Mode it will display the red dot within a split second. Illumination Settings: 8 Daytime / 2 Nighttime. Elevation/Windage Adjustment Range: +/- 40 MOA. Reticle: 3 MOA Red Dot.
Battery: 1 x CR1632 with up to 50,000 hours of battery life. Tired of cleaning a filthy LED window when your optics red dot picture is obstructed and filled with brightly lit pieces of dirt? With Cyelee Optics Windowless Waterproof LED Emitter technology you will never have to clean your second LED emitter window again, and the optic remains fully IPX7 waterproof! When it's time to take a shot, you want the clearest unobstructed view possible, ditch the second tiny LED emitter window and go with Cyelee Optics Windowless Waterproof Technology for the crispest and most consistently clean sight picture. When we say daylight bright we mean so bright you can't use the highest settings indoors.
Utilizing a multi-coated lens for Red Dot versions to boost perceived brightness and battery life, our optics have multiple settings below what human eyes can perceive for enhanced low-light optic(NV) devices. But they are also bright enough for noon desert shooting, for use with high lumens flashlights, and for when the sun is bearing down on you, don't miss a beat. Shock proof up to 1500Gs, what more is there to say? Our optics hold up to recoil, and it's not even close.