Primary Arms SLX Advanced Rotary Knob Compact Red Dot Sight FDE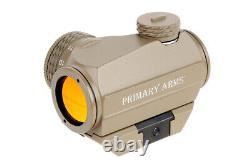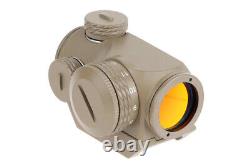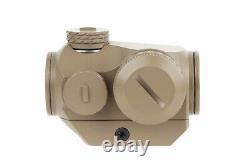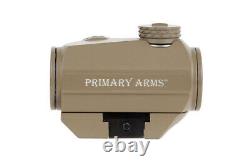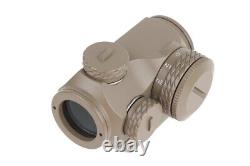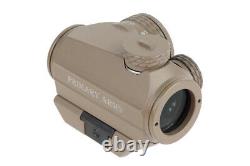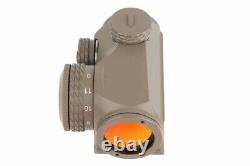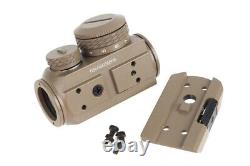 Angled front lens designed to reflect the crisp 2 MOA dot projected by the emitter into the eye of the user. 11 illumination settings with approx.
50,000 hour battery life (5+ years) at a medium brightness setting. Includes removable Picatinny rail mount for out of the box use and bikini lens covers for glass protection. 6061 aluminum housing, durable ceramic flat dark earth finish, and aluminum turret caps that tighten around O-rings for protection against water and fog. Battery Life: 50,000+ Hours. Battery Type: CR2032 3V Lithium Coin.
Night Vision Compatible: Night Vision Compatible. The SLx optics are the heart of our lineup. The trusted optics that have built our reputation through the years.
Although many SLx optics will be familiar to Primary Arms fans, we are always pushing forward with new generations and adding even more options in response to the demands of our loyal customers. The Microdot, Removable Base, Advanced sight (MD-RB-AD) takes everything we learned from our popular MD-ADS microdot and refines it a step further. The Primary Arms Advanced Micro Red Dot Sight features an estimated 50,000 hours of battery life from the included CR2032 battery, powering an ultra-sharp 2 MOA dot. Fully multi-coated lenses and an ultra-low profile emitter ensure a clean sight picture with minimal lens tint. Eleven brightness settings are controlled by the rotary knob on the right side.
The first two settings are compatible with night vision units and cannot be seen by the naked eye. The brightest settings are daylight bright. The illumination knob physically stops at "0" with the red dot turned off. This red dot sight is designed to work with heavy recoil and is constructed of 6061 aluminum with a Ceramic flat dark earth finish. Waterproofing is improved over previous models-for example, the turret caps are now aluminum instead of plastic and tighten down around the O-rings until metal-to-metal contact with the scope body.
When removed, the turret caps can be used to adjust windage and elevation. It comes with a removable 1913 MIL STD Picatinny base.
MD-RB-AD features a 2 MOA dot, meaning the dot itself appears to cover roughly 2 inches of target at 100 yards. The 2 MOA dot offers an excellent compromise of both speed and accuracy.
Magnifiers placed behind the microdot unit will result in a sight picture comparable to a traditional magnified scope. When looking through the magnifier, the dot will appear to "grow" in size. The dot always stays the same size relative to the target; magnification makes it appear larger.
EXPORT CONTROLLED ITEMS: These items are controlled for export and may require an export license from the U.