Multi-Reticle RMR Red Dot Sights Shake Awake Circle Dot Reflex Sight GOWUTAR 3C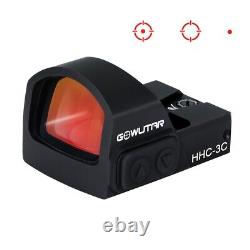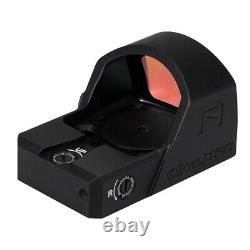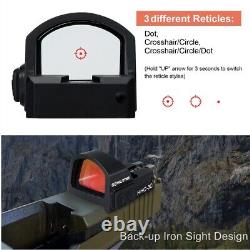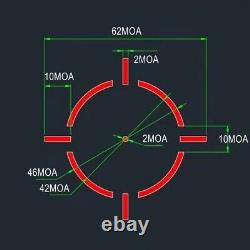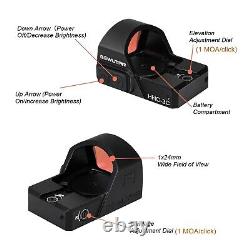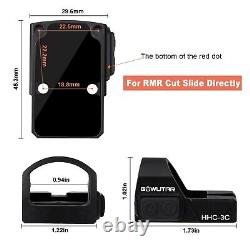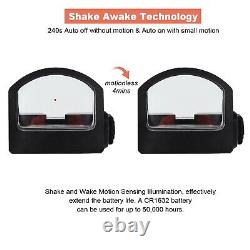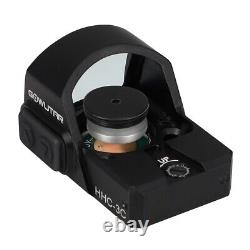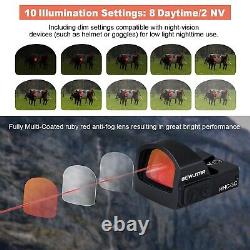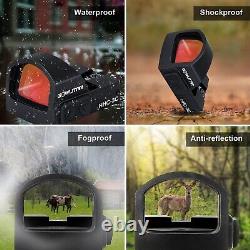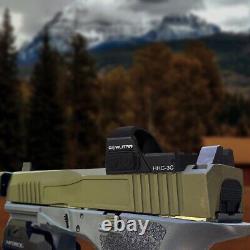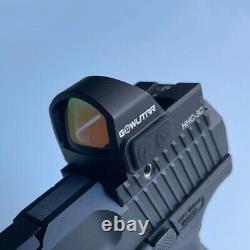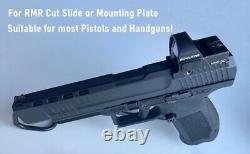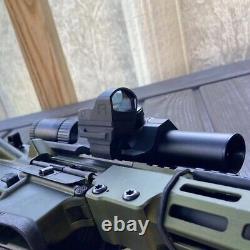 GOWUTAR Multi Reticles Shake Awake RMR Circle Dot Sight for Pistols and Rifles! The red circle dot sight has 3 different reticle styles: Dot, Circle, Circle/Dot (dot size is 2moa, circle size is 62moa), provide various choices in different occasions. Hold "UP" arrow button for 3 seconds to switch the reticle styles. Compact red dot reflex sight is compatible with RMR cut slide or mounting plate, suitable for most pistols and handguns.
Net weight of only 1.41oz, perfect for every day conceal carry self-defense. - Micro red dot sight for pistols integrates with Motion Activated illumination (MOTAC) technology. First please power on the red dot to activate the function (Press "UP" arrow button to power on). It will automatically shut off after 4 minutes without motion, and it will auto wake up even with the smallest tap. Effectively extend the battery life, a CR1632 battery can be used for up to 50,000 hours.
-- The RMR sight has an integrated co-witness sight to give you added certainty when taking aim, you can co-witness the regular sights with the red dot optics mounted. Includes 10 different brightness settings (8 Daytime/2 NV) in bright and dim lighting with equal ease. Any problems just feel free to contact with us, we will resolve every problem for you! Industry Standard RMR Footprint & Multi Reticle Styles.
HHC-3C multi-reticle red dot sight is compatible with. RMR cut slide or mounting plate.
Suitable for most pistols and handguns! Such as Glock MOS, PSA Dagger RMR cut, Canik TP9SF Elite Combat (#2 plate adapter), Optic-ready iwi masada RMR cut, etc. Dot size is 2MOA, circle size is 62MOA.
No longer restricted to one reticle, shooters can now select from three versatile options suitable for multiple shooting scenarios! Red circle dot sight integrates with. Tech to help save battery life, a CR1632 battery can be used for up to. Without motion, illumination shuts off, even the smallest tap or tilt will wake it up to the previous brightness setting.
If unfortunately you received a defective item, we will send you replacement soon or give you cost back! Why Choose the HHC-3C Circle Dot Sight? ¦ Compatible footprint for RMR pistol cut/slide/mounting plate (same base as Trijicon RMR/SRO, Holosun 407C/507C/508T).
¦ Comes with a free low profile picatinny mount for rifles. ¦ 3 different reticle styles for multiple shooting scenarios. ¦ Shake Awake technology (240s Auto off without motion & Auto on even with small motion). ¦ Back-up Iron sight design, you can co-witness the regular sights with the red dot optics mounted. ¦ Easy to return to zero and hold zero without fail (passed 1000 Rounds without losing it).
¦ Tough and durable design, hold up to various types of recoils. It withstands waterproof test, dropping test and low temperature test, can be used in rugged environment. ¦ LED emiter is 100% waterproof, can be used in the rain and even more aggresive water situations. ¦ 10 illumination settings (8 daylight plus 2 NV) for visibility in all light conditions. ¦ Parallax corrected & Unlimited eye-relief.
Minimum parallax at 33 yards, and the parallax will be less than 1moa when the distance is at 100 yards. Makes changing the CR1632 battery a breeze without removing the sight from the equipment retaining your zero.
Waterproof and stays dry even when immersed in water. This rmr red dot won't fog up due to rapid changes in humidity or temperature, you can always see the red dot and your target clearly.
Ruby red lens can provide clearer field of view than normal, useful in different conditions. Body Material: 6061 aircraft-grade Aluminum. Lens color: Fully Multi-Coated Ruby Red. Windage/Elevation Movement Range: ±45 MOA. 10 Illumination Settings: 8 Daytime/2 NV. 1 x Multi Reticles Circle Dot Sight.
Press "UP" arrow to power on, hold "DOWN" arrow for 3 seconds to power off. If the dot is perfectly showed in the picture, then the dot is normal and you may have astigmatism (because phones are machines that do not have human astigmatism).