HOLOSUN HS407K X2 Red 6 MOA Dot Sight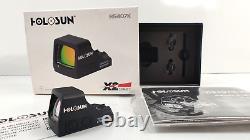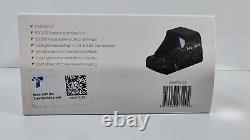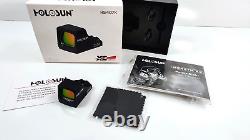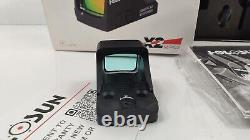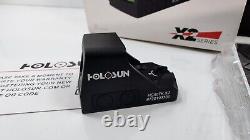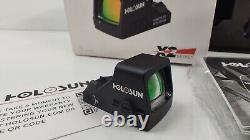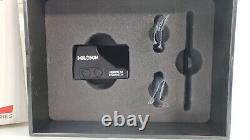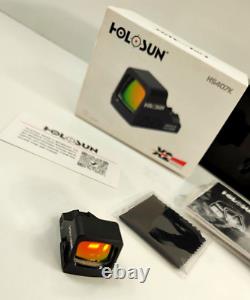 HOLOSUN HS407K X2 Red 6 MOA Dot Open Reflex Optical Sight for Subcompact Pistols - Durable Parallax Free Unlimited Eye Relief Handgun Sight with Aluminum Housing & Shake Awake Technology. HOLOSUN RED DOT SIGHT - The HS407K X2 is an open reflex optical sight designed for subcompact pistol applications; It features Red Super LED with up to 50k hour battery life, a crisp 6MOA dot, and 12 reticle intensity settings; The HS407K X2 is direct for P365X/XL, and requires an adapter plate for slides with a four-boss interface.
HIGH PERFORMANCE - This reflex sight for handgun incorporates Lock Mode which locks the buttons preventing inadvertent setting changes when activated; The durable housing is made from 7075 Aluminum, uses Holosun's K footprint, and houses the 1632 battery in a side-mounted tray for easy replacement when needed. SHAKE AWAKE TECHNOLOGY - Extends battery life by deactivating the optic's LED while not in use; Shake Awake offers settings from 10 minutes to 12 hours depending on the model and can be deactivated altogether if preferred; The slightest touch of the optic instantly reactivates the LED so your Holosun reflex sight for pistol is ready when needed. MULTILAYER REFLECTIVE GLASS - This red dot sight is manufactured using optical-quality glass lenses with multilayer coatings applied to facilitate maximum light transmission and wear resistance while reducing glare and facilitating reduced power requirements; Holosun's highly reflective coatings produce industry-leading reticle intensity, clarity, and battery efficiency.