SIG SAUER Romeo5 1x20mm 2.0 MOA Red Dot Sight with Low & Cowitness Mount SOR52001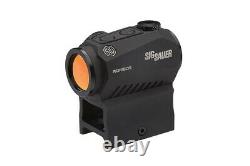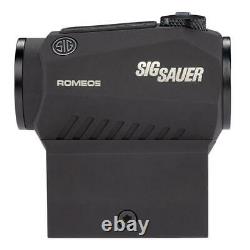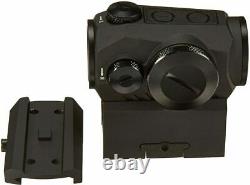 Sig Sauer ROMEO5 1x20mm Red Dot Sight. The Sig Sauer ROMEO5 1x20mm Red Dot Sight is a versatile 1x sight that delivers rapid target acquisition and accurate targeting for any situation. These compact Red Dot Sights by Sig Sauer operate in all light levels with 8 illumination settings for daylight and 2 for night vision.
The Sig Sauer ROMEO5 1x20mm Red Dot Sight is equipped with MOTAC (motion activated illumination) that powers on the sight when it senses movement and shuts down when it does not for safety and longer battery life. With multiple mounting possibilities, the Sig Sauer ROMEO5 1x20mm Red Dot Sight is a great choice for civilians and professionals alike. Specifications for Sig Sauer ROMEO5 1x20mm Red Dot Sight.
M1913 Picatinny Low Mount Riser, Co-Witness 1.41 inch Riser, Batteries. Features of Sig Sauer ROMEO5 1x20mm Red Dot Sight. Infinite Guarantee: SIG SAUER Electro-Optics are guaranteed forever. It's an unlimited lifetime guarantee. HDX: Advanced optical systems comprising both High Definition (ED) and High Transmittance (HT) glass for ultra-high resolution, optical performance and light transmission. ALT: Precision molded aspheric lens technology virtually eliminates aberration, reduces weight, and helps to focus the projected image through the lenses for superior low distortion optical performance.
Hellfire Reticle: Electronically illuminated reticle system utilizes advanced fiberoptic technology to vary the light intensity of the central aiming point from IR (InfraRed) dim to HellFire bright for daylight illumination, resulting in a bright, defined aiming point for precision shot placement in any condition. LensArmor: Abrasion-resistant lens coatings for extreme durability ensure the lenses on your scope will stay sharp, bright, and clear. LenShield: Proprietary Mil-Spec oleophobic coating that sheds water, oil, and gunk to ensure a clean sight image at all times.
LightWave DSP: Lightwave DSP (Digital Signal Processing) engine leverages HyperScan- an advanced power management technique that provides the fastest refresh rate in scan mode (4 times per second) even at distances over a mile. Our DSP engine uses the latest generation Field Programmable Gate Array (FPGA) running sophisticated signal processing algorithms to reduce false positives while finding weak or distant targets. LockDown Zero System: The LockDown Zero System is a stop-locking turret that allows a rapid return to Zero. After dialing up elevation for a shot at extended range, the LockDown Zero System eliminates worry over how far to turn the elevation dial to return adjustment to zero. Turret not only stops at zero, it locks at zero. Lumatic: The most advanced display on the market. Our OLED (Organic Light Emitting Diode) display has the largest dynamic range providing for high brightness in bright sunlight or snow conditions, yet will dim down to near nightvision levels at dusk and dawn. No other display offers this adaptive ability to prevent your pupil from constricting in low-light causing you to no longer be able to see your target.
Megaview: Revolutionary optical design provides massive Field Of View (FOV), allowing faster target acquisition, and an enhanced awareness of objects in the shooter's periphery. Motac: Activated through motion sensing technology, MOTAC immediately powers up illumination when it senses motion and powers down when it does not in order to extend battery life. SBT: Perfectly matched to the ballistics of your shooting system, the SIG Ballistic Turret (SBT) is a custom laser-etched elevation dial for your SIG SAUER® Electro-Optics riflescope. Using inputs including bullet specifications, ballistic coefficient, muzzle velocity, elevation, and other environmental factors, the SBT system allows for the correct bullet drop compensation and pinpoint accuracy at any range. SBT dials are available on most TANGO and WHISKEY model scopes.
OIS: Proprietary OIS SIG Optic Stabilizer system is gyroscopically stabilized to cancel out unwanted shaking and vibrations that can blur an image, especially at higher spotting scope magnification levels. SpectraCoat: Highly efficient, ultra-wide broadband, anti-reflection lens coatings reduce surface reflections to extremely low levels across the entire visible spectrum providing superior light transmission. Stealth ID: Electro-Optics industrial design inspired by our legendary firearms; deflection armor trapezoidal surfacing breaks up the shape and visibility of the optic along with pistol slide serrations and grip checkering to add function to the form of all SIG SAUER electro-optics. Truhold: Lockless zeroing system utilizes twin adjustment springs designed and torture tested to endure handgun recoil and return to zero shot after shot. LevelPlex: The LevelPlex digital anti-cant system utilizes an integrated digital level with cant indicators located inside of the riflescope. 6 times more accurate than a typical bubble level, LevelPlex allows the shooter to remove unwanted cant from the system to +/- 0.5° of accuracy. Quad Reticle: Quad Reticle technology allows the user to toggle between four different selectable reticle options. With the Ballistic Circle Dot reticle, users can pick between a 2 MOA dot, a 2 MOA dot with ballistic holds, a 2 MOA/65 MOA Circle Dot or a 2 MOA/65 MOA Circle Dot with ballistic holds. These ballistic holdover points subtend for the 5.56 NATO and 7.62x51mm NATO cartridges.
Meanwhile, the Circle Plex quad reticle offers similar aiming options, but the 2 MOA dot is swapped for a 1 MOA central aiming feature in a plex-type reticle for more precise mid- to long-range shooting. Solar Powered Illumination System: Highly efficient solar panel combined with advanced micro-electronic power management system augment the on-board battery to power-up illuminated reticles with ambient light load. Ruggedized with impact and scratch resistant glass.
BDX 2.0 is the Software Update that includes a new easy mode for quick BDX setup out of the box, including: BDX kits come paired and bonded. BDX Quickbond system gives users the ability to bond two BDX enabled devices without the smartphone app. BDX equipped KILO rangefinders preloaded with ballistic groups for centerfire rifles, muzzleloaders and crossbows.
100% compatible with BDX smartphone app to access the advanced BDX features in configuration options. AMR: Ranging technology uses an on-board inclinometer that reads incline/decline angle and modifies the effective ballistic shooting range to the target.
AMR is the equivalent horizontal range and integrates perfectly when used in combination with SIG Ballistic Turret Dials. OIS Optical Image Stabiliation: Proprietary SIG Optical Image Stabilizer System that is Gyroscopically stabilized to cancel out unwanted shaking and vibrations that can blur an image, especially at higher magnification levels. KinETHIC Kinetic Energy Indicator: Allows a hunter to set a threshold in either ft-lbs or fps for the ethical harvest of game animals. BDX will compute distance ranged and indicate when you drop below the user-set threshold for energy or speed of bullet on target. Weaponsgrade Polymer: Optimized for use with polymer pistols.
Hyperscan: Features the fastest, most accurate range acquisition algorithms by analyzing targets 4 times per second and displaying the results on stationary or moving targets within a quarter of a second. We are a family business that has been operating in the Dallas/Fort Worth metroplex for more than 35 years. As military veterans, we are committed to upholding our 2nd amendment rights while encouraging education and training to keep the tradition of gun ownership alive for generations to come. If you're interested in firearms please check out our gun range in Grapevine, TX, Texas Gun Experience. We are an authorized dealer. All open box item sales are final except for manufacture defects. Feedback is given in bulk at the end of each month. The item "SIG SAUER Romeo5 1x20mm 2.0 MOA Red Dot Sight with Low & Cowitness Mount SOR52001" is in sale since Tuesday, June 15, 2021.
This item is in the category "Sporting Goods\Hunting\Scopes, Optics & Lasers\Red Dot & Laser Scopes". The seller is "dfwshootingsports" and is located in Bedford, Texas. This item can be shipped to United States.
Model: Romeo5
Modified Item: No
Custom Bundle: No
Type: Dot
MPN: SOR52001
Reticle Color: Red
Brand: SIG SAUER