Meprolight Mepro Foresight Innovative Augmented Red Dot Sight ML68553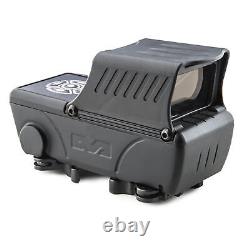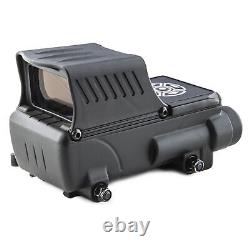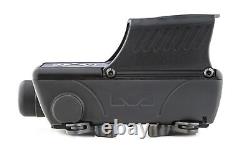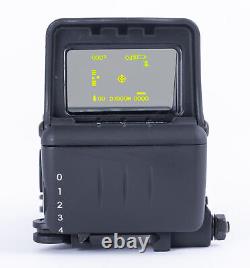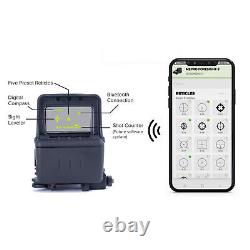 Move your mouse over image to enlarge. The KROMM Item Grade Classification Table. What's In The Box. MEPROLIGHT Foresight Reflex Red Dot Sight 1x Selectable Green Reticle with.
Quick Release Picatinny-Style Mount Matte. MEPROLIGHT Foresight Reflex Red Dot Sight 1x Selectable Green Reticle with Quick Release Picatinny-Style Mount Matte.
The Mepro Foresight's digital zeroing takes the hassle out of zeroing your weapon, All five reticles are immediately co-witnessed. The built-in compass provides direction and the leveler ensures you are properly set up for the shot, which is critical on longer distance shots with larger caliber rifles. The data from this highly technical, yet easy to use optic is projected on a transparent optical lens to keep the shooter informed at all times. The built-in light sensor automatically adjusts the reticle to changing light conditions.
The Foresight has Bluetooth interface to connect to the Mepro Foresight App and the unit is powered by a rechargeable battery using a USB cable. The energy efficient system features an automatic shut-off and automatic power-resume diode to extend battery life between charging. The large viewing window allows the shooter to keep both eyes open for increased situational awareness. The Mepro ForesightT offers features and benefits to shooters across a wide range of disciplines -Law Enforcement, Competitive, Professional, and Hunters-who want to upgrade their capabilities. The Mepro ForesightT is the first augmented red dot sight, projecting real-time data to the user's FOV (Field of View).
As a top-grade stand-alone optic, The ForesightT is powered by a rechargeable battery using the commonly utilized USB-C cable. Features include an internal compass, battery level indicator, five pre-set tactical reticles (which can be changed/ programmed according to the user's preferences), an integrated light sensor that automatically determines reticle brightness. The Mepro ForesightT, first of its kind, provides greater technical advantages by allowing the user to utilize the. Which provides benefits not seen before on an optic. Automatic Digital Zeroing without touching the optic by shooting a multi-shot group and taking a photo of the grouping to the app.
Real-time projected data provides the shooter with critical data needed to assist in accurate shot placement, and all using a wide crisp viewing window. Achieving accuracy has never bees so simple. Get hold of the Mepro Foresight and shoot like never before. All of Meprolight's products undergo meticulous quality assurance according to international standards. The company is certified to ISO-9001:2008, ISO-14001:2004 and OHSAS 18001:2007, complying with NATO and US military specifications and International MIL Standards.
Reach out to us for excellent professional support & customer service! What happens if we need more verification? Should you have any questions or requests for specific information regarding any of these potential charges, we advise you to consult with your local government import office. Please make your arrangements accordingly.
Although we specialize in professional photography equipment we carry a large selection for the amateur photographer as well. We attribute our success to our competitive pricing and to our high standards of honesty and integrity. We stand behind our products as being the top quality that customers expect to receive.
Our high standard of honesty has gained us a respectful reputation in the photography industry and has earned us many repeat and friend referred customers. When browsing our store, keep in mind that our friendly and knowledgeable staff are always ready to help you in finding the right equipment. So browse at ease and enjoy the widest selection of cameras, camcorders, printers, scanners, lighting equipment, tripods, lenses, flashes and much more.
At times, we may substitute accessories for similar ones of equal or greater value. We are open Monday through Friday. We will get back to you very shortly. Item is brand-new, unopened, and in it's original retail packaging.
The item may come in non-retail packaging. The box has been opened but the item has no signs of wear. It Includes all original accessories. However, it may come in non-retail packaging.
The product has been taken out of the box and may have been used for a limited time. It may have little or no signs of wear. The item may come in non-retail packaging, and original accessories may be missing.
The product is used, though fully functional, with moderate signs of wear. There may be slight scratches \ blemishes. The product is well used, though still fully functional. There may be some noticeable signs of wear, like scratches, dents, blemishes, etc.
May come in non-retail packaging, and original accessories may be missing. The product is fully functional, though heavily used.
May show signs of wear and use like scrapes, scratches, cracks, and/or heavy brassing. Comes in non-retail packaging, and original accessories may be missing. Item is usable, but has considerable optical or mechanical imperfections. For parts only, item not in usable condition. Sign up for our newsletter.
ALWAYS EXPECT A GREAT DEAL!