HOLOSUN HM3X Flip to Side 3x Red Dot Magnifier QD Mount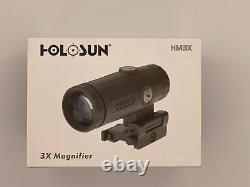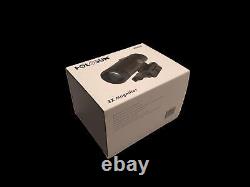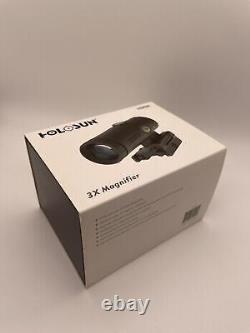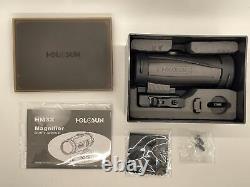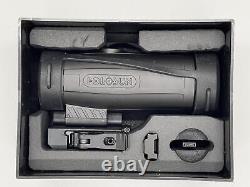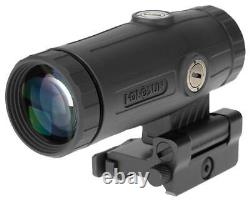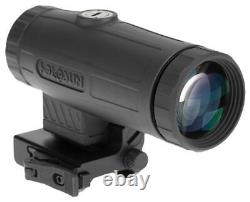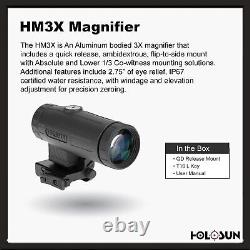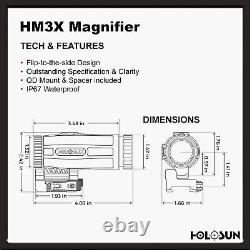 HOLOSUN - HM3X Flip to Side 3x Red Dot Magnifier QD Mount. SEAMLESS TRANSITION: Holosun's HM3X ambidextrous flip to side design will allow operators to seamlessly transition from unmagnified to 3x magnification for improved sight downrange. ADJUSTABLE FOCUS: The HM3X features an adjustable diopter to dial in the desired focus.
COMPATIBLE WITH: An integrated QD mount with an optional spacer for Absolute Co-Witness and Lower 1/3 Co-Witness is included. DURABLE AND RELIABLE: The HM3X comes in a durable aluminum housing and is IP67 certified water resistant. MULTI-COATED LENS: Holosuns optics are manufactured using optical glass with multilayer coatings applied to facilitate maximum light transmission and wear resistance while reducing glare.
Product Dimensions: 1.53 x 3.94 x 2.44 inches. Item Weight: 1.21 pounds. With our dynamic pricing model, our prices are always competitive. Our prices are some of the lowest that you will find on the internet.
Rest assured that you're getting a good deal when purchasing with us.