EOTech XPS2-0TAN Tactical Holographic Optic Weapon Sight XPS2 Red Dot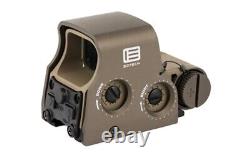 The XPS2 is the shortest, smallest and lightest EOTech model holographic weapon sight available without night vision. Its size and weight make it convenient for hunters and law enforcement officers to carry. It is also fast and runs on a single 123 battery.
The compact, single-lithium-battery configuration leaves more rail space than ever for rear iron sights or magnifiers. EOTech, Tactical, Holographic, Non-Night Vision Compatible Sight, Red Reticle, 68MOA Ring with 1MOA Dot, Tan Finish, Rear Buttons, includes CR123 Battery.