GOWUTAR A17 RMSc Micro Red Dot Sight Shake Awake 2 MOA Reflex Sight with Pic Mount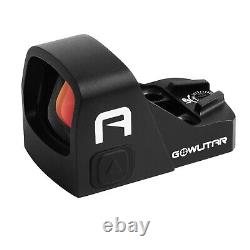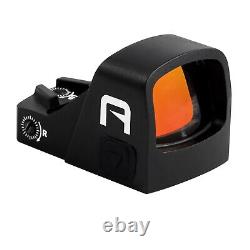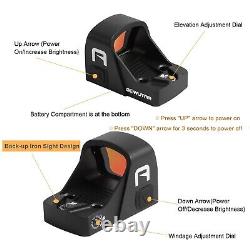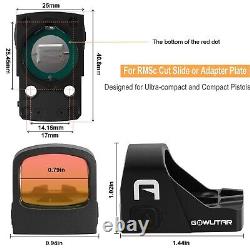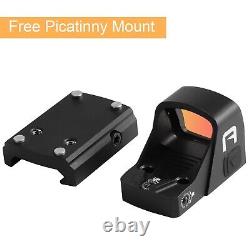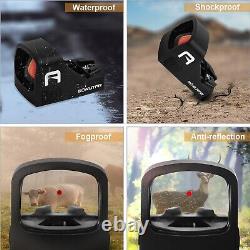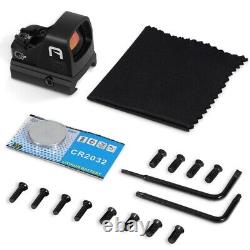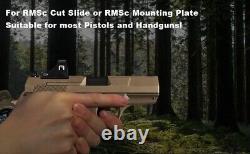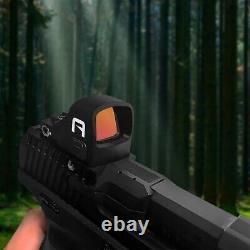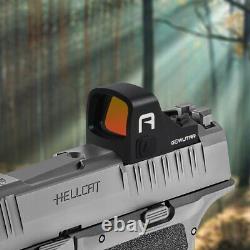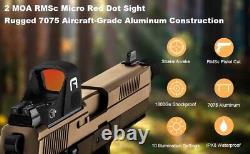 GOWUTAR 2 MOA Ultra-Compact Shake Awake RMSc Micro Red Dot Sight! -- A17-updated micro red dot sight for pistols is compatible with industry standard RMS/RMSc footprint.
For ultra-compact or compact equipments such as Canik TP9 Elite SC, Canik Mete SFX / SFT, Hellcat OSP, Hellcat Pro OSP, Sig sauer P365xl, Sig sauer P322, Glock 48 mos, Glock 43x mos, Ruger max9, Walther PPS M2, Walther Q4/Q5, SMITH & WESSON Performance Center M&P9 M2.0, SMITH & WESSON M&P9 Shield Plus, etc. - Open red dot reflex sight integrates with Motion Activated illumination (MOTAC) technology. First please activate the function by pressing "UP" arrow to power on the red dot. It will automatically shut off after 4 minutes without motion, and will auto wake up even with the smallest tap. Effectively extends the battery life, a CR2032 battery can be used for up to 30,000 hours.
You can co-witness the regular sight with the micro red dot optics mounted. Its net weight only 25g/0.88oz, small enough for concealed carry self-defense. 2 MOA promotes rapid target acquisition while providing a precise point of aim, getting shots down range and on target fast. - Rmsc red dot sight constructes from aviation-grade 7075 aluminum material, hard coated in matte black.
The red lens is fully multi-coated with anti-fog, anti-scratch, and hydrophobic coatings, resulting in great bright performance. 1800Gs shockproof, IPX8 waterproof and anti-rust for use in rugged conditions. - Pistol micro Red Dot scope includes 10 different brightness settings (8 Daytime/2 NV) in bright and dim lighting with equal ease, 2 dim settings compatible with night-vision devices for low light nighttime use.
Any problems just feel free to contact with us, we will resolve every problem for you! Industry Standard RMS/RMSc Footprint & 1913 Picatinny Base. A17-Updated micro red dot is designed for. (The same base as holosun HS407K/HS507K).
Suits for: Canik Mete SFX/SFT, Canik TP9 Elite SC, Glock 48 mos/43x mos, Sig Sauer P365XL/365X, Sig Sauer P322, Springfield Armory Hellcat OSP, Ruger Max9, WALTHER PPS M2 RMSc, WALTHER Q4/Q5, Smith&Wesson Shield Plus 9mm, S&W PC M&P Shield M2.0, Taurus GX4 Toro, etc. In addition, a low-profile Picatinny mount is included to be mounted on shotguns, rifles or anything that uses a Picatinny rail interface. The RMSc red dot sight integrates with.
Tech to help save battery life. Without motion, illumination shuts off, even the smallest tap or tilt will wake it up to the previous brightness setting.
If unfortunately you received a defective item, we will send you replacement soon or give you cost back! Important Information for Windage & Elevation Adjusting and "Zero"! "UP" refers to Point of Impact (POI) not the actual dot. If you rotate in the direction of the arrow that says "UP" the dot will move DOWN, meaning the place your bullet will hit moves UP(comparitively). ¦ If you want the dot Down, please turn clockwise.
¦ If you want the dot Up, please turn counter-clockwise. ¦ if you want the dot Left, please turn clockwise.
¦ if you want the dot Right, please turn counter-clockwise. The sight is delivered in a centered position, only small adjustments are necessary.
If you suddenly encounter resistance, don't try to force the screw further, this can break the mechanism and render the sight unable to zero. Any problem with adjusting or holding zero, just send us message, we will resolve it for you! It has an integrated co-witness sight to give you added certainty when taking aim. 2 MOA red dot is crisp and very clear on the brightest days. With a 17mm height view window, net weight of only 0.88oz, perfect for every day concealed carry and home defence.
10 illumination settings (8 daylight plus 2 NV) for visibility in all light conditions. Tough and durable design, hold up to various types of recoils. It withstands waterproof test, dropping test and low temperature test, can be used in rugged environment. O-ring seals prevent moisture, dust and debris from penetrating for reliable performance in all environments. Waterproof and stays dry even when immersed in water.
Constructed from 7075 aluminum, hard coated in matte black. This red dot won't fog up due to rapid changes in humidity or temperature, you can always see the red dot and your target clearly. Fully multi-coated ruby red lens can provide clearer field of view than normal, useful in different conditions. Body Material: 7075 aircraft grade Aluminum.
Lens color: Fully Multi-Coated Ruby Red. Windage/Elevation Movement Range: ±45 MOA. 10 Illumination Settings: 8 Daytime/2 NV. 1 x A17-Updated Micro Red Dot Sight.
Press "UP" arrow to power on, hold "DOWN" arrow for 3 seconds to power off. If you see a perfect dot in the picture, then the dot is normal and you may have astigmatism (because phones are machines that do not have human astigmatism).