Mahill MK2 Stealth Slingshot Rifle with red dot sight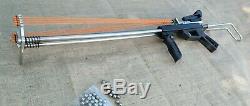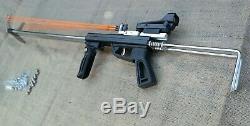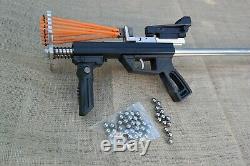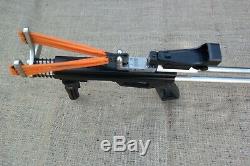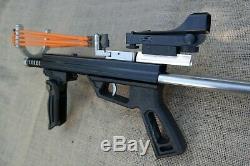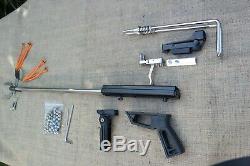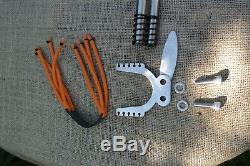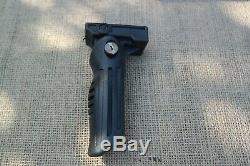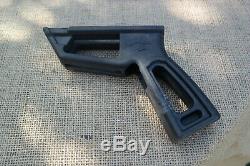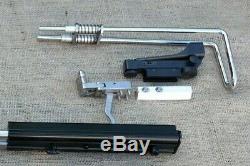 The matt black Mahill MK2 Stealth Slingshot rifle kit. This is an unusual form of slingshot that I'm sure you'll have fun with. It is simple and enjoyable to use.
If the normal Y frame handheld catapult or slingshot might be called the Longbow of the slingshot world this could be thought of as the slingshot Crossbow. Load and cock the slingshot rifle, aim through the supplied red dot sight and shoot using light trigger pressure.
Power can be greater than that found with a typical non FAC air rifle. You also have the added benefit of being able to choose the hitting power by changing the bandset, the size/weight of ammo used and being able to reuse the steel ball bearing ammunition when shooting into a catch box. This slingshot rifle would make a great present for yourself or a loved one. Think of this as a slingshot with a trigger, or a crossbow that shoots ball bearings and uses rubber instead of a bow.
Simple like a slingshot, aim-able like an air rifle and a similar kind of fun and surprisingly accurate. Designed to shoot ball bearings or lead ball from 8mm up to 16mm. Note that 6mm ball bearings can be used with some bandsets but risk being pulled through between the release pillars on more powerful bandsets. This is a rubber powered slingshot/catapult.
It is not a firearm and cannot be adapted to form part of a firearm. It is not a crossbow (as defined in the UK) and cannot be adapted to form part of or the whole of a crossbow. This slingshot rifle is fully compliant with UK Law and classified as any other muscle and rubber powered slingshot or catapult. Please note that this slingshot rifle is supplied for you to put together.
Instructions are provided, with assembly taking approximately one hour. Necessary Allen keys are included, though Loctite is needed for the screws/bolts, and a Phillips headed screw driver and a pair of pliers are needed to tighten the buttstock and fit the scope rail. Before purchasing please fully read this listing. Please, for your own safety read and follow this advice. You might also want to join the Facebook Slingshot Rifle group I set up.
You may note that I allow one day before posting your order. This will allow me time to do final packaging, make your bandsets etc.
You will receive a checked and tested product with extra goodies, localEnglish speaking support and a serious set of available bandset options compared to what you might get from China. Though I'm sure your enjoy your slingshot rifle, if you don't like it you know you can send it back to a trusted and reliable UK supplier. I have listed a range of compatible accessories such as scopes, sights, ball bearings, paintballs and a wide range of alternative bandsets. You can shoot this instinctively but in my opinion something like a red dot or low power scope helps you get the best out of it.
A very simple red dot sight is included to get you started but I do sell more sophisticated sight options. Each of the scopes or sights I have listed is compact and chosen to fit and work well, and comes with the necessary compatible mounts. The finish on the "body" which holds the trigger release and pistol grip is satin/matt black paint. The trigger unit slides forward to load and back using your hand on the pistol grip and your right foot on the fork side bar to cock it with the bands in tension. Press in the unlock button (just behind the fore grip) to unlock the trigger unit and slide forward to uncock. It locks automatically when pulled back. Bandsets are available up to a pull of 71lbs though I'm working on more powerful options. Some of the lighter bandsets are optimised for higher speeds with lighter 8mm or even 6mm steel balls. Quite a lot of power and speed is available in such slender tubular rubber. I've fitted all the bandsets with cable ties for improved safety. The trigger is the highest quality unit available to me, made from 304 grade stainless steel. It has a fairly light trigger pull and will shoot steel ball bearings from 8mm, (6mm possible with some lighted bandset/pouch options) up to 16mm diameter as well as the 17mm paintballs. So far highest speed achieved has been 255fps, highest foot pounds has been 17.25. Fitting and changing the bandsets is very easy and can be done in seconds. Just stretch the band so it fits through the slot and the ball seats.
As the structure of the slingshot is two tubes or rails only fixed at each end (by forks and stock) on which an extruded aluminium trigger unit slides, the rails can twist slightly causing the forks to be out of alignment and not precisely vertical. This does not affect the use or performance of the slingshot rifle but you can easily correct it by hand by twisting the forks the opposite way.
I recommend that you periodically check alignment of the forks and the tightness of all fixings. IMPORTANT SAFETY NOTICE - I do not advise the use of ball bearings any smaller than 8 mm except with bandset/pouch options specifically stated as being compatible. There is a potential risk that smaller ball bearings in a thin pouch will pull through between the trigger unit pillars. Though it is fun to shoot, this slingshot "rifle" should be used with care. Take at least as much care as you would with an air rifle.
Never point it at a person. Be especially careful when the pouch is loaded and the trigger unit is pulled back into the cocked position.
There is no safety catch and the trigger has a fairly light pull. Do not put your finger within the trigger guard until you are aiming and ready to shoot. Be aware that ball bearings can bounce and ricochet. Ideally shoot into a catch box. I strongly recommend that you wear safety glasses when shooting.
Please note that if you are outside of the UK it is your responsibility to do your research to ensure that this is not a prohibited item in your country. If slingshots or crossbows are prohibited in your country it is possible that this item will be prohibited. Slingshots may be illegal in some states/counties in the US and Australia and I understand also in Trinidad and Tobago.
If you have any questions please do ask them. The item "Mahill MK2 Stealth Slingshot Rifle with red dot sight" is in sale since Monday, December 2, 2019. This item is in the category "Sporting Goods\Hunting\Catapults". The seller is "longbowmark" and is located in Gravesend. This item can be shipped worldwide.
Type: Catapults
Sub-Type: Catapults
MPN: Does Not Apply